1995 Condors
(photo from Labor Day Tournament at Santa Cruz)
This was the first time the Condors ever beat Double Happiness winning 12-11.
The Condors were the first team to beat them since DH won the World Club Championship in England.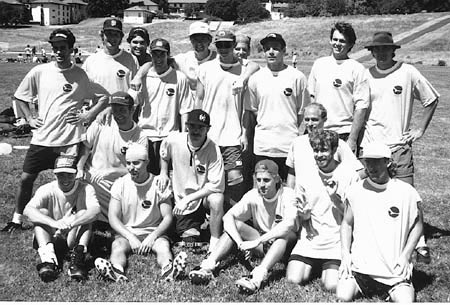 Standing:
Mario Viani / John Keough / Keay Nakae / Rich Berkfield / Dave Kelly / Mike Namkung / Shaw Copilow / Steve Dugan / Eric Waller / Garthe Nelson
Kneeling:
John 'Cones' Trindade / Jim Mallon / Matthew 'Pepe' Lefevre
Sitting:
Mike Hall / Jason Seidler / Garrett Headley / Andy Crews / Matt Owen
Not Pictured: Win Dada
---
Regionals
(by Steve Dugan)

Saturday -
Condors beat Illusion 15-2
Condors beat Albequerque 15-13 (after being down 8-12)
Condors beat TAO 15-7

Sunday –
We played Phoenix in the quarters and coming back from a 8-12 deficit again beat them 15-13.
We then played San Diego in the Semis. We battled in the first half being down 9-7 at halftime; they rolled us in the 2nd half and we lost 17-11.

---