1980 Condors
National Semifinalist
(photo from World Flying Disc Championships at Santa Cruz)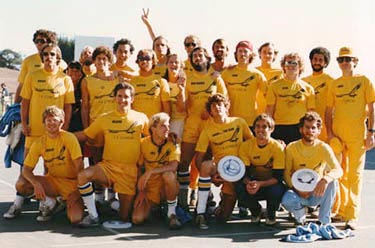 Back Row (standing):
Greg Sharp / Brian Humphrey / Dana Lewis / Tom Lewis / Cliff Marhoefer / Irv Kalb / Kip Harmer / Larry Leveille / Mary McDonald / Andy Hodgeson (v-sign) / Curtis Weeks (beard) / TK / John Schmechel / Craig Carlisle / Steve Rieck / Steve Fisher / Chris Taylor
Front Row (kneeling);
Brian O'Donnell / Michael Mininni / John Olcott / Doug Saulter / Bart Merrill / Paul Hooston
---
Other 1980 Condors Pictures and Tournament Write-ups
---
1980 Roster:
Carlisle, Craig
Clark, Bill
Fisher, Steve
Harmer, Kip (Kipper)
Hooston, Paul
Humphrey, Brian
Kalb, Irv (Dr. I)
Kennedy, Tom (TK) [captain]
Leveille, Larry [asst. coach]
Lewis, Tom
Marhoefer, Cliff
Merrill, Bart
Mininni, Michael (Meanie)
O'Donnell, Brian (B.O.D.)
Olcott, Johnny (Sky)
Rieck, Steve (Leak) - did not attend Nationals due to back injury at WFDC
Saulter, Doug (the Bum)
Schmechel, John
Sharp, Greg (Greggo)
Tabor, Dave
Taylor, Chris [coach]
Vaughan, Chris
Weeks, Curtis (von Weeks)

1980 Non-Traveling Players:
Austin, Bob
Broughton, Michael (Snuffy)
Harrington, Dan (the Bum)
Hodgeson, Andy
Rosen, Adam
Soto, Jeff
Stringer, Marcus
---
"The comment that I will never forget from one of the 'vets' when we were at practice in the 1980 season was "you are practicing with the best in the world." Little did I know that he was right. Every practice was at such a high level of competitive play that you knew nothing else. When it came tournament time, we totally dominated until we got to the national level."
Tom 'Tommy' Lewis
---
"The funniest incident I ever saw Johnny 'Sky' Olcott involved in was when he stalled out Jersey Joe (of the Circus) (when the stall count was 15) & then Jersey stalled him right back & then Johnny blocked his throw."
"One of the greatest plays Johnny ever made was on one of the worst throws I ever made (& I had many). I hucked up a 50 yard swill pass that was hanging up about 10'. Johnny came up from the side of, and behind, Danny Weiss (Circus) & jumped up over him, reached behind him, catching the disc as Danny whiffed at it. The funniest part of the whole thing was that Johnny thought it was a great pass & everyone on the team wanted to kill me until he caught it."
Bart Merrill