1999 UCSB Black Tide
National Runner-up
[Scroll down to see entire page.]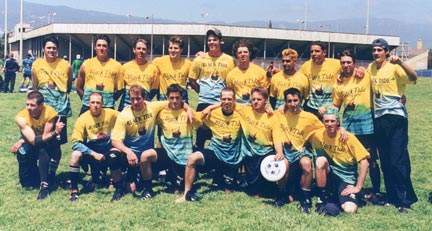 Standing:
Tommy 'Buzz' Hellyer / Brandon 'Pillow' Steets / James 'Griz' Griswold / Dan 'Muzzle' Schneider / Tommy 'Big T' Burfeind /
Jamie 'Insane' Houssian / Shaun Bagai / Ernie 'Big Ern' Aubin / Nick 'Sick' Fiske / James 'Vader' Studarus
Kneeling:
Greg 'Hollywood' Husak / Mitch Remba / Adam Glimme / Israel 'Whizzy' Green-Hopkins / Ben Smith / Oren Skoog /
Kevin Buchanan / Eric Boyd
---
1999 TOURNAMENT SCHEDULE AND RESULTS
[Click on tournament name for more details.]

TOURNA- MENT*

DATES
LOCATION

SEMIFINALS
RESULT

FINALS
RESULT

UCSB WIN/LOSS

Jan. 23-24
U.C.Santa Barbara

vs SLO
12-5

UCSB vs Stanford (rained out)

6-0

Feb. 6-7
Tempe, AZ

---

---

3-3*

Feb. 13-15
U.C. San Diego

vs Colorado
15-13

vs Stanford
15-11

11-0

March 6-7
UCSC / Stanford

---

---

4-1

April 3-4
U.C. Santa Cruz

---

---

2-3*

April 10-11
Claremont, CA

vs Pomona
15-4

vs UCSD
15-6

6-0

April 24-25
U.C. Santa Barbara

vs North Arizona U 15-6

vs Colorado
15-10

6-0

May 28-30
in Boulder, CO

vs Carleton
15-12

vs NCSU
14-16

5-1
* Losses to club teams.
---
| | | |
| --- | --- | --- |
| | | |
| Adam Glimme | | Tommy Burfeind |
| Captain | | Co-captain |
---
MESSAGE TO THE 1999 TEAM FROM A 1991 TEAM MEMBER
(January 1999)
Each National Championship makes the next season that much more difficult. Every team, no matter how many players may have won prior championships, will have players who never tasted that victory, and that should motivate everyone to let them share in the Black Tide legacy.
Nobody wants to be on the team that loses a consecutive championship streak. I know, I was riding the ultimate high (excuse the pun) being on the team that won the 3rd consecutive championship in 1990, followed by the ultimate low when we lost in the semi-finals in 1991.
You can never take the championship for granted and realize today that the next year in the first game in the first weekend tournament while everyone is sore and going through the motions, Stanford will be trying to kick your butt to say they beat the national champions. And it will get worse with every game.
The final thought is a quote I heard Vin Scully repeat from someone else while I was watching the 1983 World Series. I never realized how true this quote was until after the semi-final loss in 1991.
"Losing feels worse than winning feels good."
by Jason 'Zippy' Hoffman ('90-'92)