1995 UCSB Black Tide
(photo from April Fools)



Standing (back row) L to R:
John 'Shelty' Shelton / Nate ????? / Mario 'Rio' Viani / Doug Boyd / Chris 'Bulldog' Ballard / Tom Chapman / Eric 'Wall' Waller / Matt 'Pepe' Lefevre / Chris 'Gav' Gavigan / Greg 'Hollywood' Husak / Shaw 'Little Shaw' Allen / Lars 'Golden Boy' Thompson / Jason 'Redbeard' Backlund / Mike 'Jerky' Namkung
Sitting (front row) L to R:
James 'Studabaker' Studarus / Matt Owens / Gregg 'TDK' Tedeski / Rich 'Blueberry' Berkfield / Kevin Gleason / Jason 'Redshirt' Seidler / Mike Gilchrist / Andy 'Razor' Crews / Matt 'Chatterbox' Shaff / Casey 'Superchicken' Hare / Brian Anderson / Jon 'JT' Taylor / Chris 'Farm Fresh' Farmer / Mike 'Camper from Hell' Hall
Not Pictured:
Shaw 'Big Shaw' Copilow / John 'Claw' Harre / Eric 'Mo' Morrissette / Charley 'Chuck' Weiland
---
Other 1995 Black Tide Pictures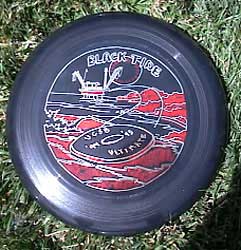 ---
The 1995 Season
by Jason Seidler
This was the year of highs and lows. The season started with a bang when thirty players were coming to practice regularly in the Fall. The team seemed to have a lot of athleticism, so everyone was very positive about the upcoming season. When the Winter rolled around we had twenty-six players on our squad with a great core of about 10 veterans. The team was led by captains Andy Crews and Jason Seidler. The entire pre-season was a blur. Every college tournament we entered we seemed to keep on winning. Our pre-season was so successful that perhaps we didn't prepare well enough for what really mattered.

After Sectionals, we were one of the favorites to win Regionals. Unfortunately, Gav broke both of his wrists and Mike Namkung was told he was ineligible (which he technically wasn't, but didn't want to risk disqualification for his teammates). This was a devastating blow for the team to lose two of the top players before Regionals. We took our team up to beautiful Santa Cruz but couldn't ever seem to locate the magic flow we had all season. We had a very frustrating loss to Las Positas (Chabot) that ended our season and many of us could not sleep for quite a while. Fortunately, as we usually do, the Tide took this loss and turned it into a powerful motivating force. The pain from the loss was ever-present, but we will not die.
"When you start accepting losses graciously, when it doesn't tear your guts out to lose,
there's no meaning. But when you find meaning, anything is obtainable."


1995 UCSB Game Scores:

02/18/95 U.C.Santa Barbara 11 Pomona-Pitzer 3
02/18/95 U.C.Santa Barbara 12 U.C.Davis 10
02/18/95 U.C.Santa Barbara 11 Occidental 0
02/18/95 U.C.Santa Barbara 11 Las Positas 6
02/19/95 U.C.Santa Barbara 11 U.C.Berkeley 3
02/19/95 U.C.Santa Barbara 15 Las Positas 4
02/19/95 U.C.Santa Barbara 17 U.C.Santa Cruz 14
---------------------------------------------------------------------------------
03/04/95 U.C.Santa Barbara 11 Iowa 8
03/04/95 U.C.Santa Barbara 11 Yale 7
03/04/95 U.C.Santa Barbara 11 U.C.San Diego 6
03/04/95 U.C.Santa Barbara 11 Oregon State 6
03/05/95 U.C.Santa Barbara 13 Cal Poly-S.L.O. 11
03/05/95 U.C.Santa Barbara 11 UNC-Wilmington 9
03/05/95 U.C.Santa Barbara 11 Stanford 8
---------------------------------------------------------------------------------
03/25/95 U.C.Santa Barbara 15 Cornell 12
03/25/95 Oberlin 11 U.C.Santa Barbara 7
03/25/95 U.C.Santa Barbara 15 Navy 3
03/26/95 N.C.State 12 U.C.Santa Barbara 9
---------------------------------------------------------------------------------
SECTIONALS:
04/22/95 U.C.Santa Barbara 17 U.C.San Diego 10
04/22/95 U.C.Santa Barbara 13 Occidental 1
04/22/95 U.C.Santa Barbara 17 Cal Poly-S.L.O. 10
---------------------------------------------------------------------------------
REGIONALS:
05/06/95 Las Positas 10 U.C.Santa Barbara 6
05/06/95 U.C.Santa Barbara 12 Humboldt State 6
05/06/95 Stanford 13 U.C.Santa Barbara 11
05/06/95 U.C.Santa Barbara 13 U.C.Berkeley 4
05/07/95 U.C.Santa Barbara 15 Cal Poly-S.L.O. 6
05/07/95 Las Positas 12 U.C.Santa Barbara 10