Goaltimate
2nd Annual Winter Goalstice - Nov. 23, 2002

Showcase Game - July 21, 2000

Practice in S.B. - July 15, 2000

Phase II Tournament - Feb. 12-13, 2000

Phase I Tournament - June 19-20, 1999
---
A high-energy, fast paced Frisbee disc sport. The game is played on a grass field measuring 30 yards deep and 40 yards wide. At one end of the field is the "clear line" and at the other is the "end zone". The end zone forms an arc, which measures 21 feet by 23 feet. The passage into the end zone is through an arching goal vaulting 11 feet into the air. Points are scored when a player throws the disc through the front of the goal and the receiver catches the disc in the end zone.

Goaltimate has six players per team. Four are in play, with two remaining in the substitution box. The game starts from behind the clear line when a defensive player taps the disc held by an offensive player. This is called "check disc." The offensive player establishes a pivot foot, similar to basketball, then throws the disc to a teammate within the field of play. Possession is maintained as long as the throws are completed.

When throwing the disc from player to player, a number of spectacular and creative throws are used in order to penetrate the goal. Meanwhile, the defense is trying to intercept the disc or knock the disc down for an incomplete pass and a turnover. Another turnover occurs when the offense fails to throw the disc within 5-seconds, known as "stalling". Stalling happens after the defensive player counts aloud to five.

Each goal counts for 1 point, with 2 points being awarded for goals thrown from behind the clear line. After a score, the offense maintains possession and must work the disc back to the clear line in order to advance for another score. Games are played to 5 points and are part of a best-of-5 game series.
---
2nd Annual Winter Goalstice
Nov. 23, 2002
Santa Cruz, CA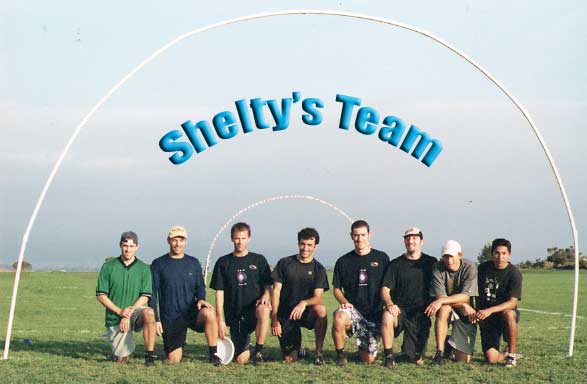 Andy Crews / Steve Dugan / John Shelton / Brent Shannon / Dan Eisenberg / Jason Seidler / Mike Namkung / Jaime 'Idaho' Arambula
2nd Place
(4 wins & 1 loss)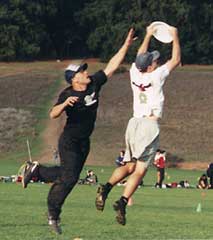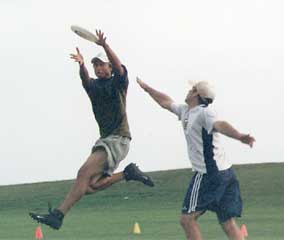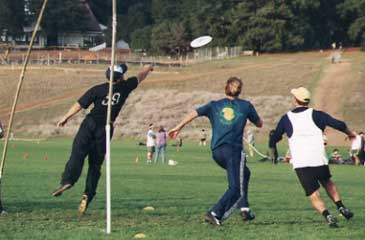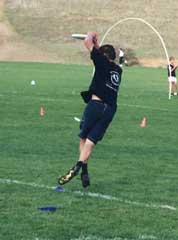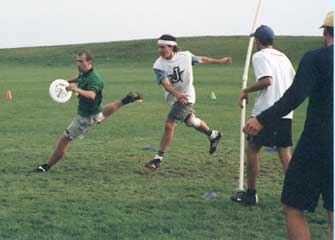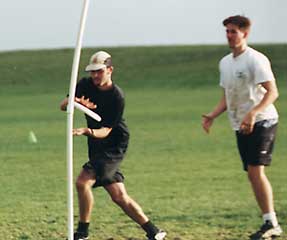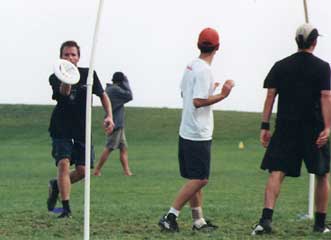 Nice toss... but where's your teammate to catch it?

---
Goaltimate Showcase Game
July 21, 2000
U.C. San Diego
San Diego Ground Zero
vs
Santa Barbara Condors

In conjunction with Opening Day at the NFL San Diego Chargers training camp,
a showcase Goaltimate game was played and will be aired on ESPN.
Tournament result and game points (best 3 out of 5) :
San Diego beats Santa Barbara: 3-2
San Diego vs. Santa Barbara: 4-5, 5-2, 5-2, 2-5, 5-3

Number of Assists
(goal points thrown)

Scores
(goal points caught)

No. of 2-Pointers

Santa Barbara Condors

Andy Crews

4

1

Steve Dugan

1

3

John Hammond

3

3

Jay Higgins

0

3

Greg Husak

4

2

Jason Seidler

3

2

James Studarus

2

3

1

San Diego Ground Zero

Mike Blackard

7

2

2

Mike 'Frenchy' Boisvert

4

2

John 'Bullett' Cione

2

0

Steve Ferguson

3

4

Jim 'Daddy' Ingebritsen

0

8

Greg Pinz

3

2

Cliff Smith

2

3
---
Practice in Santa Barbara
July 15, 2000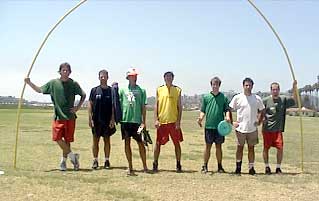 The mid-2000 Condors Goaltimate Team:
Greg / Steve / John / James / Andy / Jay / Jason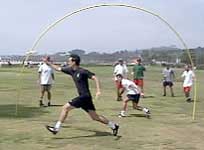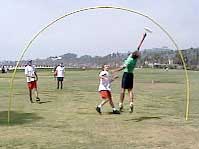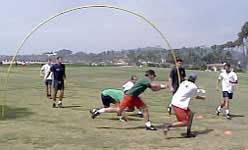 He got it! ............................................... He missed it! .............................................................He got it!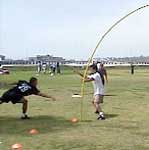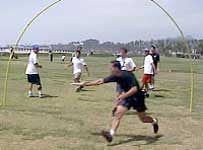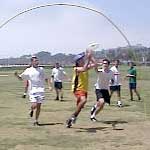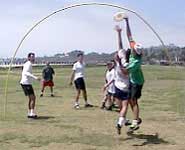 How many points for hitting the pole?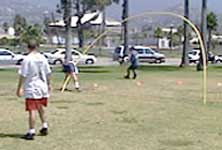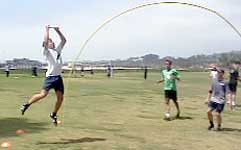 Jay the 'bunny' ................................................. Ouch, that must hurt ................................................... Nice Andy, 2 hands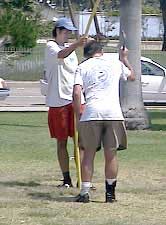 Now we know why Jay's the captain...
he has the hammer!
---
Phase II Goaltimate Tournament
February 12-13, 2000
West Palm Beach, FL
Santa Barbara Condors - 2nd Place
http://www.goaltimate.com/phase_ii.htm
(click here to see more details about this tournament)
Santa Barbara CONDORS
Game scores

Win/Loss
(best 3 of 5)

Saturday:
vs Brooklyn KINGS
vs Vancouver EVIL GENIUS
vs Denver DOUBLE DIAMOND
vs Minneapolis SUB-ZERO

5-1, 5-0, 5-1
5-1, 3-5, 5-2, 5-4
5-2, 5-1, 5-0
5-0, 5-0, 5-1 (quarterfinals)


3-0
3-1
3-0
3-0


Sunday:
vs Boston 21st CENTURY DoG
vs San Diego GROUND ZERO

5-1, 5-2, 5-1 (semifinals)
2-5, 3-5, 5-4, 5-3, 1-5 (finals)


3-0
2-3

Condors Roster:
Andy Crews
Steve Dugan
John Flandrick
Greg Husak
Rick Martz
Jason Seidler
James Studarus
Jay Higgins (injury)
---
Phase I Goaltimate Tournament
June 19-20, 1999
San Diego, CA
Santa Barbara Condors - 3rd Place
http://www.goaltimate.com/inaugural.htm
(click here to see more details about this tournament)
On June 19th and 20th, 1999, they held a tournament inviting the top Goaltimate players in the world. There were 18 teams representing most major cities in the United States. The tournament was 2 days long with the finals played on Sunday, June 20th. Ground Zero from San Diego won and took the $30,000 prize!! Boston took 2nd ($2,500), Santa Barbara Condors were 3rd ($1,000) and JAM was 4th ($500).
Athletes In Motion, an ESPN sports show, did a Goaltimate documentary and taped the finals for airing on ESPN, espn2 and ESPN International.
The Condors accepting their 3rd place trophy and $1,000.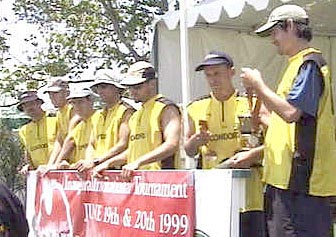 Steve Dugan / Greg Husak / Andy Crews / Dan Dewey / Jason Seidler / Pepé Lefevre / James Studarus