2002 Condors Tournaments
(page 1/4 of Condors tournaments in 2002)

Davis Ultimate Invitational
U.C. Davis
April 6-7, 2002

Tournament Champions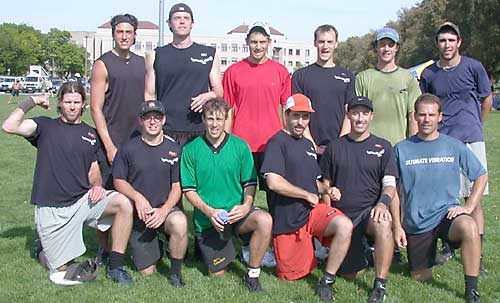 CONDORS ROSTER at DUI:
Tommy Burfeind
Andy Crews
Steve Dugan
Dan Dewey
Greg 'Hollywood' Husak
Ryan Nation
Corey Sanford


Jason Seidler
Brandon Steets
James Studarus
Ryan Yarbrough

Mark Miller
Matt Jelmini

GAME SCORES:
Saturday:
vs U.C. Davis.............15-5
vs PBR (San Diego)...13-6
vs JAM X...................13-9

Sunday:
vs Bonzi (Portland)....13-4 (quarterfinals)
vs JAM Y...................15-5 (semifinals)
vs Stanford.................15-6 (finals)

[Recap by Joe Seidler]
The Condors played 6 games this weekend at Davis in an attempt to defend their win last year at DUI. Saturday, they first played the U.C. Davis team and won easily 15-5. Then came PBR (San Diego club team) who fell behind the Condors never to catch up, giving us a 13-6 win. Last was JAM X (JAM divided into two teams letting a lot of try-outs play). JAM X went up 3-0, but in a blink of an eye the Condors went on a run to go up 6-3. It got tied at 9-9, and then the Condors put them away to win 13-9.

Sunday started with the Condors playing the Portland club team in quarterfinals. Pretty easy game with a 13-4 win. Then it was JAM Y in the semifinals. The Condors took half 8-2 and closed them out at 15-5.

The surprise of the weekend was the Stanford college team. Usually the college teams that play at club tournaments don't win many games, instead they come to get experience. This time, Stanford was beating the club teams. They beat both JAM X and JAM Y and most of the other teams they played. So it was a Condors vs Stanford finals.

The sidelines filled up quickly; I'd say 100+ spectators. One thing I forgot to mention was that the Condors had a very small team. Only 11 of the Condors were there plus 2 new players trying out for the team. Stanford had over 20 players. So was it a fair match... no.

The Condors played zone often forcing Stanford to make a lot of passes. And eventually Stanford would give the disc away before scoring. Stanford has a great team this year (undoubtedly the favorite to win the college national championships in May), but the best college team vs the best club team? Well...

Condors vs Stanford 15-6

The Condors are DUI champions 2 years in a row. Back-to-Back is becoming a habit for the birds.

Total points scored for and against the Condors:
Saturday = 41-20
Sunday = 43-15
Total = 84-35


TOP TWELVE Memories from Davis:
by Dan Dewey (with an extra one by Corey):

1. New guys, Jomo and Mark, playing solid ultimate - no turns, many D's, multiple goals scored, positive attitudes - nice work.
2. Steve and Jason working the Skogs to space and baffling defenses.
3. Greg and Brandon ruling the skies all weekend.
4. WWF stories Sunday morning.
5. Quarters/semis/finals 13-3/15-5/15-5 - ouch -
6. Corey's 60 yard flick huck.
7. Yarbro's no look passes.
8. Stellar TEAMWORK all weekend.
9. Tommy taking one for the team and hooking up a free motel room.
10. Nation guarding Toaster - that is a fun matchup to watch!
11. Jaymo "strapping up" his ankle and playing for us Sunday.

and... my favorite.......
12. Andy telling his Jam defender "uh oh you're in trouble" as he is flying by him for a 70 yard huck.

13. Dan Dewey having to go deep on D one-on-one against Stanford's best deep target and boxing him out perfectly for a sick D block.


---
21st Annual Santa Barbara Classic
U.C. Santa Barbara
May 25-26, 2002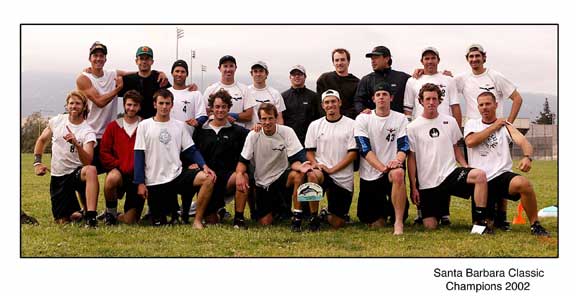 [photo compliments of Ted Savage]
click here for additional pictures and information from the S.B. Classic

CONDORS ROSTER at S.B. CLASSIC:
Tommy Burfeind
Andy Crews
Steve Dugan
Dan Dewey
Blake Garnand
Greg 'Hollywood' Husak
J.D. Lobue, Jr.
Taro Ramberg
Corey Sanford

Ted Savage
Brandon Steets
James Studarus
Ryan Yarbrough

Eric Boyd
Luc Mehl
Mark Miller
Steve Stratos
Saturday:
15-7 vs Pleasure Cove
15-6 vs Valhalla
15-6 vs Badabadoo
15-5 vs LA ???

Sunday:
15-5 vs LA ??? (quarterfinals)
15-13 vs San Diego PBR Streetgang (semifinals) --- [Condors were down at half 7-8, tied at 12-12]
15-5 vs Jam (finals)

---