Other 1981 Condors Pictures & Tourney Write-ups
[scroll down to see tourney write-ups]
(photo from Rose Bowl Exhibition Game)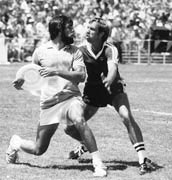 TK marking Paul Brenner


(photos from SB Classic and Practice)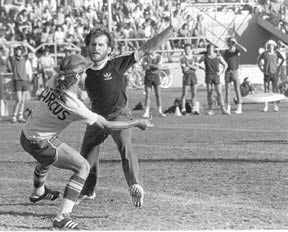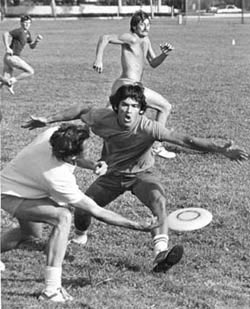 Paul Hooston on D ---------------------------------------- Bart Merrill to Dan Schrademeier / Keay Nakae on D


(photos from Flying Disc World Championships)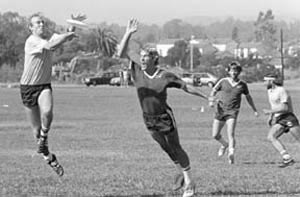 Jim Turner gets a block vs S.D. Flo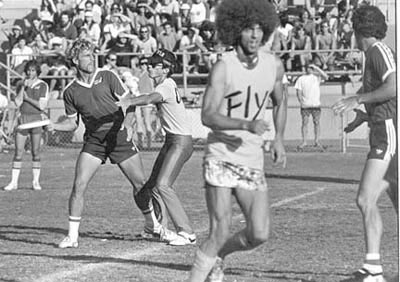 Jim Turner with the disc


The Condors 1981
(by Johnny 'Sky' Olcott)
[with updates by Keay Nakae]
1981 didn't start like the year of the Condors. After the disappointment in Atlanta in 1980, many players retired, while others took a much needed break from the sport. Usually in those years we wouldn't get back together until the rains stopped in mid-to-late January. We also had winter league games at this time, so most of the Ultimate was coed and friendly, a good way to stay in shape. Many of us would play with Wally and the Ducks at Santa Barbara High on Saturday mornings. Winter League was at night, I believe, and I think the Locals won again--I know I was on the winning team--maybe with Bart and Mininni--but I'm not sure what we were called.
About this time the women's team was getting started. There had been women players who played pick-up games with the Ducks, and sometimes Michele Pezzoli and Cindy Birch played Ultimate with the men's team in practice. Their throwing skills were good and now they were getting some UCSB students who could run and jump and dive. Besides, it was nice to see some new girls out at practice. It was always difficult to meet girls in bars or at the beach and then have to respond to: "So, what do you do in your free time?" The answer would invariably lead to: "Oh, do you have a dog?" Having girls around who played the sport and appreciated the time and effort we put into it was encouraging, and I think we tried to support them too.
The first real tournament that year was the Cal States, which we won--again. I think the tourney was held in Santa Cruz, and we beat the Circus in the final. The States were an important tournament, and we always selected a team. In 1979 we divided into two teams and lost to the Circus. We weren't about to make that mistake again.
In May the Condors took a small team up to Stanford for the first (I think it was the first) Mother's Day Tournament. I know I didn't make it, either because I couldn't travel or I wasn't invited. Things were funny that way. Team members were saying they didn't want to play with so-and-so, and then new players arrived and needed the opportunity. Anyway, the Condors lost to a great, young Stanford team 17-11 despite a solid game by TK.
In June, we took a small team up to Eugene to play in the Solstice tournament. I think I drove up there with Doug the Bum and Bob Austin, who was a rookie in name only. Bob was fun to be around, highly competitive, and had great throwing skills. I'm not sure if Keay Nakae was with us yet, but we played with a lot of rookies and maybe five to seven veterans. We lost in the Semis to Dark Star, and I remember feeling a bit embarrassed, but we knew that things would be different when we played as a whole team--when we finally settled on one, that is.
Summer practices were killer. We knew that the Worlds were going to be competitive because the other teams had improved and we were so young. Stanford was dangerous, Circus was about to add some big guns, Dark Star had just beaten us and the Circus in Eugene, and, if the Nationals had taught us anything, we knew that we had to get better and fast.
Luckily, not all of our new additions to the team were "rookies." Fred "Piece of Cake" Pisacane had played with Michigan State, Jeffrey "Yogi" Durra had played with Boston, Thad "We Know You're Bad" King had played with the Midland Muffs (LA); David "Buzz" Ellsworth had played with a variety of good teams back East, and Jim Bozeman had played for some team in Hicksville USA.
The rookies, however, were what made us great: Jim Turner had the size and strength of a linebacker but played the game with the grace of a dancer-- hard to visualize but true!; Rich Gallagher gave us added height and athleticism--a good sidearm too; Jim Kruidenier, or "JK", was our budding superstar--he looked innocent and wholesome, like he might make a good president someday. In addition, we had Bob Austin, a solid QB, Daniel Schradermeier, who hardly ever made a mistake with the disc, and Geoff Girrard, who always looked a bit slow and awkward but was murder to try and cover--the guy had legs of granite and complete cool under pressure. All of the above had been playing intramurals at UCSB with Bart and TK.

The last rookie wasn't really a true rookie: Keay Nakae had played with Brian O'Donnell and Irv Kalb on the Woodland Hills Hot Sox the year before. Even then he displayed a fierce competitive nature playing defense. The first time I saw him play, he ran up my back in the endzone after I had just scored. I remember turning around and saying something like, "What the hell do you think you're doing?" My attitude sure changed when he joined our team. I was happy we had someone who wasn't afraid to dive and get physical. He kind of set the standard for all of us when it came to all out hustle and sacrifice of one's body.
To get a better picture of how "young" we had become, there were twelve (really eleven) returning veterans: Bart, TK, Paul Hoosten, John Schmechel, Mike Mininni; Cliff Marhoefer, Doug 'the Bum' Saulter, Tom Lewis, Curtis Weeks, Brian O'Donnell, Dave Tabor (who hardly ever got to play but was vital to our psyche and togetherness), and myself. Several of these veterans were rookies the year before and had watched from the sideline as we ate humble pie.
In August we traveled to Santa Cruz for Worlds. Most of us remembered the feeling of playing in a packed Cabrillo College Stadium and wanted to get there again. We lost our first two games of the tournament to Dark Star (Portland) and Stanford. This was the first tournament Keay Nakae ever played on the Condors, and going into it we never imagined that we would finish the first day 0-2. We did rebound the next day, winning most of our games, including a victory over the current 2-time defending national champs, Glassboro. In the semifinals, we played Dark Star, and extracted a bit of revenge for our earlier loss.
The finals is etched in my memory. It was an awesome game between two offensive machines. The place was packed, and the game started fairly early since freestyle was once again the featured event. This time there were no CBS cameras, but you could feel the excitement in the stadium before the game began. The Circus had Danny Weiss throwing bombs from everywhere--usually to Jersey Joe, but we seemed to answer with the same efficiency--only with a short passing game. We had a host of new QBs and they would literally walk down the field with short crisp passes to each other or the Middles. I remember being frustrated because we weren't throwing deep, but the game was close and one got the feeling that every turnover would be costly. I stuck to playing defense on Danny Weiss, and there's a great photo in the UPA newsletter with my chin in (literally stuck in) Danny's shoulder. I had to jump in front of his backhand to prevent the deep pass, and it was in retaliation for his grabbing on to my jersey every time I made a cut in the end zone. The guy would literally stick his hand out and pull my jersey when I made a cut. I don't blame him, and I couldn't call a foul because no one had thrown me the disc!
Well, it was nip and tuck all game. The game was to 21, and I remember it being tied at 19 or 20 when the Circus threw off. Then it happened. Brian O'Donnell dropped the disc right on the end zone line. Many of us were wondering why Bart had left him on the field, since Brian lacked experience in big games, but months later the move paid off. Brian became as cool under pressure as any of our QBs, and made throws that left our heads shaking in amazement. Still, at the time, we were pretty pissed. Luckily, Jimmy Turner, Rich, Poodle, Bart, Lewis and the others tied it up and we came up big on defense and managed to win by two. I remember Jimmy Turner being the star of the day, maybe getting a big block at the end. (Please correct me if I'm wrong.)
The Santa Cruz win really pulled our team together. We were just getting to know each other--as people and as players. I think we even added a couple players at this time. I know--or seem to remember--Fred Pisacane and Buzz Ellsworth joining the team a little later in the year--maybe just before or just after Santa Cruz. Buzz was a lot like Keay--intense and physical-- and prided himself on defense. Fred was an excellent QB who made the occasional "say what?" turnover, but who always delivered in the clutch. The weeks ahead were intense, but when the Regionals came, the rookies and vets were ready.
-- Description of Regionals below --


---
(photo from Regionals)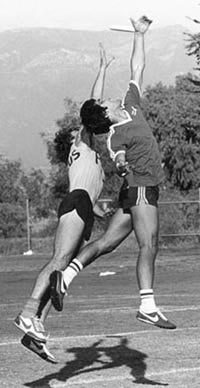 '81 Regionals
The 1981 Western Regionals were held at Storke Field with 16 teams divided into four pools. Once again there would be only one western representative at the Nationals to be held in Austin, Texas, and the gap between the Condors and the rest of the teams had quickly closed. We were matched against three relatively weak teams in the prelims: the Humboldt Buds, who often smelled better than they played-and who had the best t-shirts I had ever seen: big green buds, the size of your head, not something you would wear to school or work these days!; Chabot, a young, junior college based team with a great QB named Brian (?) who later played for the Circus--these guys proved to be very competitive; and finally, Tuscon, whom I don't even remember playing-which probably tells you everything you need to know.
Well, we took care of business early against the Buds (I wonder why!) and Tuscon, but Chabot gave us a lot of trouble, going up 5-3 early on. We finally got going near the end of the half after Tommy Lewis came up with a clutch block-Tommy was more of an offensive player and didn't get many blocks, so the sideline was jacked to see him give it up. Everybody else started flying around on defense-Keay, Rich, JK, Dougie, and I think we steamrolled the rest of the way. In other preliminary games, the San Diego Flo, with their new zone defense, upset Dark Star, which took everyone by surprise. The Circus, meanwhile, survived a close battle with the Irvine Mudsharks, a team loaded with gifted frisbee players and fiercely competitive personalities. In the final pool, Stanford had beaten a young and perhaps untested Colorado team. Also in this pool was the Santa Barbara "B" team, the "Seawolves" with Jeff Hirsch, Timba O'Donnell (later Condors), my younger brother David, and an assortment of Bums and Ducks. There was a lot of young talent on this team, and there weren't enough spots on the Condors roster, so it was nice to see these guys finally get some playing time in a big tournament. They scared a few teams and only got better as the months progressed.
In the quarterfinals we had to face the Irvine Mudsharks, whose main gun was Rich Lee, a mercurial and sometimes out-of-control QB. He was extremely competitive and vocal, and I just loved to burn him deep. It used to make him so mad I thought he was going to explode. His younger brother Doug was just beginning to play, but he showed a lot of promise even then (Doug Lee later went to UCSB and played on the Black Tide in the early years). Irvine was a team loaded with players who could play frisbee--freestyle, guts, golf, ultimate--but who just hadn't really meshed yet as a team. The next year they would knock us out of the Regionals despite the fact that we had kicked their fannies badly several weeks before in the Sectionals.
In the Semis we faced yet another surprise team, the San Diego Flo. They had recruited some Eastern boys, most notably Carmine and Big John from Glassboro, and maybe Jackson, who if he isn't from the East Coast, should be. Carmine was a Sicilian firecracker who could explode at any moment--and often did (but then who am I to talk, right?) He would argue with Bart over calls, but he was a great guy off the field and the kind of player you'd like to have on your team. There was a lot of young talent on the
Flo, and they were just coming together. They jumped ahead early, 3-1, and maintained a small lead until the middle of the second half. We were having trouble stopping their offense, your typical Glassboro short game, and we lacked patience against the zone. But we pulled away at the end and won, 18-14--not a great performance by any means.
In the other semifinal, Berkeley crushed Stanford, a team who had played them close all year. It looked like the Circus was finally ready for business, unless you looked at their uniforms, that is. I mean, when we took the field for the finals, there were more than a few raised eyebrows in the stands. People had come from all over town for the championship, many having never seen Ultimate before, and there on the field below was San Francisco in all of its glory. I think one (maybe more) Circus player was wearing a dress, another was wearing a big, red, clown nose, and all of them were wearing several strings of beads, which sometimes got in the way of their throws--serves 'em right. I'm sure glad we won because, if not, the image of the sport would have been even worse--Oh, you're a frisbee player? You not only smoke pot and have a dog, but you also like to wear dresses! These guys deserved to lose for that alone.
Well, the game was a real struggle. The Circus had three outstanding QBs: Danny Weiss, Peter Martin, and ex-freestyler, Tony Zweig. The QBs would swing the disc back and forth across the field, often making little or no yardage for minutes at a time; then suddenly Danny would chuck it deep for a score, usually to Jersey Joe or Harvey. Harvey was an awesome athlete. He could jump over you, knock you down with his big butt, then laugh in your face-- but never in a mean way-- and last but not least, he could throw a game away. Some little demon inside Harvey's head told him he had to throw it deep, which almost always ended in disaster.
The game was pretty sloppy early on. The only thing that was neat were our uniforms: the royal blue shirts and shorts with the white birds and adidas stripes. I'm sure glad we looked good because we stunk up the place for most of the first half. I think we saw Danny chucking it deep and thought we could do the same. Midway through the first half, Bart asked me to play defense on Danny, and by this time he had thrown for several deep scores. The other defenders had been playing him too honestly or going for the block and overrunning the play. I decided to take away his backhand so he couldn't throw deep. One time I took a forearm it in the face, but it was worth it. Keay, JK, and Rich played great games, shutting down their deep threats in the second half, and we were able to build a small lead. Eventually, Danny and the others started forcing things and we were able to pull away as darkness set in, 21-16.
Once again I had had a terrible game offensively against the Circus. I had some chances early on, but Harvey seemed to be playing off his man and leaped just in time to knock it away. And then there was Danny and Tony Z. once again grabbing my jersey when I made a cut. If I had done the same to Danny, he would have cried foul and asked Bart to control his teammates! Afterwards, I was a little disappointed in my game and mentioned this to Bart. He told me that it didn't matter, that I had shut down Danny. I didn't really look at it that way--Danny was much too good to shut down--but it was nice to know that I could help the team even when the disc wasn't coming my way.
It was our fifth straight Westerns title, no small accomplishment, but it was also clear that our competition out West was getting better. The next year we lost a total of three games as defending champs, and all to Western teams: once to Chabot in an early fluke; then to the Circus at Summer Solstice, although we played with only 7 or 8 regulars, and finally to Irvine in the Western regional quarterfinals--the worst possible time a team could lose, with no chance for redemption. The following year, San Diego beat us at the Nationals in New Orleans, in a hurricane-like wind. Yes, the West was getting better, but the Condors, at least for now, still ruled the sky. It was on to Dallas, baby!
Condors vs Humboldt - win
Condors vs Tuscon - win
Condors vs Chabot - win
Condors vs Irvine Mudsharks 15-6 (quarterfinals)
Condors vs San Diego Flo 18-14 (semifinals)
Condors vs Berkeley Flying Circus 21-16 (finals)

-- Description of Nationals below --


---
(photos from Nationals)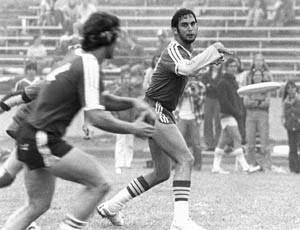 Bart Merrill to Doug Saulter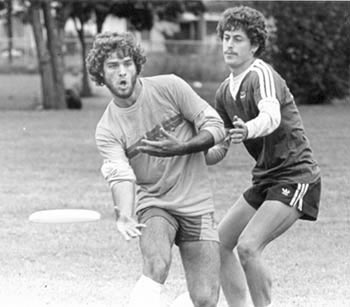 Cliff Marhoefer on O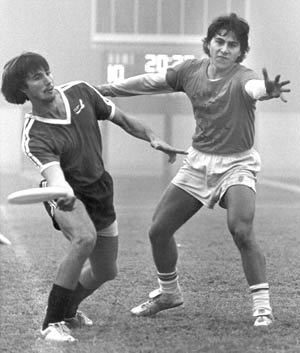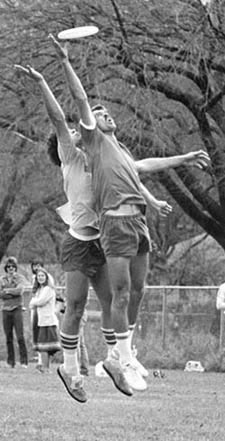 Rich Gallagher after Nee turnover -------------------- TK vs Sky in pool play


The weeks before the Nationals were a little bit more intense than in previous years. Younger players like JK, who had joined the team maybe a month or so before the Regionals, were always having to prove themselves in practice, and we veterans didn't want to lose our edge between tournaments.
One of the strange things over the years prior to and following 1981 was our somewhat poor play at the Nationals. I'm not sure if the other teams were really that much better than our competition in the West, or if we just peaked too early in the year. It seems that we often played our best Ultimate in the mid-to-late summer. Other teams, especially eastern college-based teams didn't peak until they got all their players back after Summer vacation., which is one reason why in 1979 the Nationals were rescheduled for Thanksgiving weekend. However, in 1981, we had not played our best Ultimate yet. There were moments at the Worlds and Regionals where we dominated good teams, but in the semis or the finals we had played lackluster at best, at least offensively. One thing is for certain: we were still getting to know each other and the weeks leading up to the Nationals probably helped us more than hurt us.
We arrived in Dallas and then drove to Austin, Texas which turned out to be a pretty hip place, not your typical cowboy town. I was prepared for the redneck special, but Austin was a college town, and the locals seemed pretty open-minded about frisbee and young men with long hair. Still, I wonder how they would have reacted if Berkeley had shown up in their Victoria Secret outfits. One morning I went to the local greasy spoon for breakfast with Dougie and maybe Lewis and Fred and Schmeck. The waitress walks up, a fairly attractive blonde, and asks, "How y'all doin' this mornin'? What can I get y'all." Of course, Dougie can't resist himself and blurts out something like, "We're all fine, and we all would like some grits." Fortunately, the girl didn't take offense, maybe because of Dougie's good nature, but I remember thinking she might have some brother back there in the kitchen with a shotgun. It's funny how those kinds of things enter your mind and stay there.
Anyway, our first game was against Dallas, fairly early Friday morning. Much to our surprise, these weren't the same Sky Pilots we had whupped so easily in Santa Cruz the past two years. Oh, they had Big Jim Gerenscers, who loved to play QB but should have done something more with his height, and they had a young, gung-ho Dee Rambeau, a great athlete and competitor, but this time they had a host of other talented athletes we hadn't seen before. Most notably, there was this short QB with an overhand wrist flip which he released up near his shoulder. It proved impossible to block and reminded me of T-Shep's thumber, which always looked like easy pickings for a defender, but was released just far enough outside that the marking defender was helpless.
The game was a real battle of wills. Early on we looked a little sluggish and tentative. Maybe it was the jet lag or the Thanksgiving dinner, maybe it was the tall, cushy grass-not the short, hard stuff we were used to. In any case, Dallas jumped all over us, taking a quick 4-0 lead. We hung tight and managed to close the gap, but Dallas still had an 11-8 lead at the half. Of course, many of us were upset at our lack of intensity on defense, but we weren't about to panic. We broke into our "Swoop and Pummel" cheer, and came out fired up for the second half. Defenders were flying around, denying anything wide and anything deep, and the QBs and Middles started to "value the disc," as we used to say. After tying it up, we traded goals until the very end when we capitalized on a couple turnovers and squeaked out a win, 22-20. I think we were all proud of our defensive intensity and relieved that we had survived against a very pumped up host team. Still, we would have to play a lot better the next game.
Later that afternoon we faced the Knights of Nee, a tall and talented team from Jersey that had defeated defending champion Glassboro in a thrilling Eastern regional final. Now, any team that had beaten Glassboro couldn't be all that bad, but then they were from Jersey. Making matters worse, they had several Glassboro alumni, including Frankie Bono, who was actually one of the more mild mannered Boro boys. They also had Toby "All-World" Hankins, easily the best player we would face in the tournament. The guy was tall, an efficient QB, a solid deep defender in their zone, and a clutch receiver. In addition, he had this bizarre little throw, more like a toss or a push with a little clock spin. He would release it down near his waist, and even though defenders knew it was coming, they were helpless because the disc was by them before they could react. Toby had a brother, a really nice guy, who threw off with a truly awesome overhand wrist flip. The thing would just hang in the end zone, and the offensive player had to be careful catching it because of the counter spin.
Needless to say, the fact that they were from Jersey was motivation enough for us. We opened the scoring with a long bomb, and managed to maintain a small lead throughout the half. It was our offense that was playing well this time. We had learned to utilize the upside down pass a little better, and to make strong fakes to get a defender out of position. More importantly, we weren't waiting for the disc-we were running to meet it. The score was 13-10 at the half, and we were feeling pretty confident, maybe a little too much. In the second half, the Knights made several inspired plays and quickly closed the gap. I remember being a little frustrated because I was wide open behind the zone. Sure enough, someone hit me with a high upside down pass. I wanted to beat these Jersey boys so badly that I let out a yell and slammed the disc to the ground, not something I did very often. It was a stupid mistake. A Nee player happened to be in the vicinity, and although I wasn't trying to rub it in his face, it sure must have looked that way. Well, a little later on in the game, someone hit Frankie Bono with the same kind of throw, and even though I wasn't guarding him, he ran over to me, yelled in my face, and slammed the disc. What goes around, comes around, I guess. The Nee had gained the momentum, and I had helped light the fire. Sure enough, I would pay my penance to Bart later.
The end of the game was intense. 19-17, 19-19, 20-19, 20-20. Then the Nee took the lead and held it until we tied it at 23 just before time ran out. According to the newly adopted Schmidt rule, which was implemented to prevent teams from stalling in the final minutes (remember Penn State 1979), the first team to score in overtime would win. We pulled off, and the Nee marched downfield with short passes, stalling just a few yards short of the end zone. The count went deep, and finally, a desperation pass and a diving save by Toby. The Nee had won, 24-23. It was a tough loss, but we were by no means discouraged. We no doubt felt that we were the better team, but unlike 1979, when we crushed Boro in the prelims and then lost in the final, at least this time we might get another chance. I remember singing in the shower that rather stupid theme from Annie, "The sun will come up tomorrow," which loosened things up a bit.
Later that evening, Michigan State, with Mark Orders at the helm, gave the Nee a run for their money, taking an early lead and not relinquishing it until late in the second half. Although the Nee pulled away, 18-14, they looked even more vulnerable. The next morning provided a shocker. The Hostages, a rather short, undermanned team from Boston, shredded the Nee zone and pulled out a much needed victory, 19-17, giving them a 2-1 record and a good chance at reaching the finals. In the meantime, Dallas was spanking Michigan State, giving three teams identical 2-1 records. We hadn't even played yet.
When we took the field against Michigan State, our legs were fresh, and we were anxious to make amends for our loss to the Nee. Michigan State was at 0-3 and playing for pride, but we were in no mood to be nice. We had been waiting all morning to play, and someone had to pay the price for the previous day's screw-up. We emptied our bench and came at them in waves, winning by a ridiculous score, 26-9. Now there were four teams tied at 2-1, with Dallas having beaten the Hostages the day before. We would meet the Hostages next, while Dallas squared off against Nee.
The Dallas-Nee game was easily the wildest of the tournament. Tempers flared and punches were close to being thrown as the teams went into halftime tied 10-10. Dallas received a boost from hometown fans who circled the sidelines, and the game turned into a real defensive struggle, with Dallas sometimes losing their patience against the zone. A silly error at the end sealed their fate. With a chance to tie the game, and probably forgetting about the Schmidt rule, a Dallas player heaved it deep and out of reach. The Nee walked it in and won, 20-18.
That evening we would face the Hostages with the winner playing Nee in the final on Sunday. The Hostages had all afternoon to rest, but they were hurting. To compound matters, they didn't have a bench, maybe three, four players. They managed to survive by playing an assortment of sophisticated zones, which slowed the game down and allowed them to rest, but it was mostly grits and guts that drove this team. They were fun to watch on offense too. They had this great little QB (David Barkin) with a wicked sidearm and quick as a cat - a lot like our Poodle. The game proved a mismatch, however, as we sliced and diced and literally ran them ragged, 35-18. I remember having a good game, denying their great little QB the disc and coming back to help against the zone. It was the first time I had ever really felt comfortable against a zone, and I was hoping that Bart had noticed because he was still a little ticked off about my outburst against the Nee.
That night several of us joined Michael Mininni and his wife on a tour of the Texas Capitol Building. The circular dome must have been 20 floors high, and on each floor were portraits of various governors, rich ranch owners and oil people. It was a bit surrealistic visiting the place at night. We were all drinking Heinekens, and there were security guards nearby, but they didn't seem to mind. After awhile, we started toasting the people in the portraits. I was hoping they would notice us and give us their blessing the next day. It couldn't hurt. As we walked out of the capital building, we crossed the Red River, which looked more like a creek, and sang a few bars of "Red River Valley." Anything for an edge. Well, Mininni made sure we all got to bed early that night, unlike in past years, but I'm not sure if any of us could get to sleep.
I remember waking up early the next day and waiting for the others to rouse from their sleep. We had been waiting a long time for this day. I had been waiting for over two years, having injured myself in Atlanta, and unlike the other veterans, I had never been on a championship team. All year long I had been riding my bike to and from practice listening to Tom Petty's "The Waiting" on my walkman, which was a new invention that year. But I was no more hungry than the others, those who were there at Penn State or Atlanta, and the rookies who were still upset at the loss to Nee. We ate breakfast at a nearby greasy spoon and drove to the local high school football stadium. The fog was hovering over the field, and from a distance you could barely see the lights on the scoreboard. I would have preferred a sunny day, but we knew that there would be little wind, a tremendous advantage against their zone.
At this time it might be a wise idea to look at the '81 team photo. It was taken just before the game, probably a little while after we arrived and moments before we started warming up. I know I don't look happy. Neither does TK or Dougie, and Keay's got this strange smirk on his face. JK is either cold or nervous or dead serious. I'm not sure what this has to do with anything, but we all had good games. So did everyone else who was smiling, of course, but I remember thinking I wouldn't be happy unless we won, a kind of childish selfishness on my part, perhaps, but understandable given the experiences of the previous two years.
Before the game started, Bart had come up to me and said I wouldn't be starting. I was disappointed, of course but wasn't surprised , remembering my stupid outburst on Friday. Moreover, I understood that we might need more QB's against the zone. Still, when we fell behind early because of costly drops and stupid throws, there was more than a little second guessing on the sideline. When I finally got into the game, we were behind 4-0 and in need of a quick score before we started doubting ourselves any further. Maybe a minute later, TK hit me deep with a rocket over and between defenders. When he released it, I was wondering if he was suffering a relapse of '79 at Penn State. I mean, this time I was surrounded by at least three defenders. Luckily TK always throws with a purpose and I just kept my eyes on the disc as it found my chest. A gutsy throw that only TK could make. When we lined up on defense, I was matched against their main handler Don Cain, who still holds the world record for MTAs. He had practiced with us a couple times and he had been playing with Irvine earlier in the year, so I was familiar with his tendency to throw deep like Danny Weiss. The guy didn't like to settle for the short dish like other QBs who gave me trouble. I just tried to get in front of his backhand and pray. In addition, the Nee lacked any real speed, and I was able to intercept a pass or knock one down, which resulted in a quick score. We were back in the game, 4-2, but just as quickly Bart took me out for Keay or another buff defender. No problem, I thought, I'd come out for Keay on defense any time, but when we fell behind by three or four points again, I started inching closer and closer to Bart on the sideline. No luck. I looked at TK. He gave me this shrug, like, "Sorry, Johnny, it's not my decision."
Eventually, our offense started to click as we settled for short passes and ran to the disc. Toby was awesome in the first half, throwing for several scores with that little flick of his. Rich Gallagher and JK were matched against him a lot of the time and were doing a good job, but the other defenders would allow their men to sneak closer to the disc for little dumps deep into the count. The Nee was scoring, but it was close to a turnover every time. Their 4-point lead at halftime, 10-6, was a little misleading and more the result of our defense being half a step slow at the wrong time. Most of the time we were playing great man to man, but we would miss a block by inches or overrun our man and leave the handler wide open. Our offense was another matter. The short passes penetrated the zone, but it also shortened the field and in some ways made their defense more effective. They could take chances with dives because we weren't going to punish them downfield, especially with Toby hanging back there: no floaters allowed!
In the second half, we played with desperation instead of fear. I actually convinced Bart to make use of my scoring instincts, or maybe he figured it out himself. And people like Tommy Lewis and Curtis and Jim Turner and Rich Gags and Bob Austin and Yogi Durra and my good buddy Dougie began toying with their zone, using a strong fake to get them moving in or out and settling for the short gain instead of the quick score. We cut it to two or three early on and then a sudden moment of magic and drama. Bart, seeing me open threw one over the zone, but it hung a little like his throws always do, and I was certain the two tall defenders in front of me would get to it. Instead, they missed. Perhaps, shocked, or just choking on the moment, I allowed the disc to bounce softly off my left hand. Maybe it was the years of freestyle on the beach, but the bounce felt familiar, like an airbrush, and as I turned to look over my shoulder, I noticed the disc was still hovering near the sideline. It seemed like nobody else saw it or maybe they were too far away to do anything. I ran carefully toward the sideline taking a look down to make sure I stayed in bounds. In those days, both feet had to be in. I didn't have much time, the disc was starting to drop, so I reached out and plucked it out of the air, trying not to slide out of bounds too quickly. I fell flat on my face and had no idea if I was really in or out, but I knew that from where I started my slide and where I landed, which was a few inches out of bounds, I had to be in.
Two or three Nee players ran to the sidelines yelling, "You're out! You're out!" I was a bit surprised by their behavior because they were like 15 yards away, flat on their chests, and couldn't possibly have seen it clearly. Toby's brother was in the back of the endzone, also too far away. I wasn't sure what to do--I didn't want to call myself in and be accused of cheating. Then Bart ran over and looked me in the eye. Maybe he wanted to make sure I didn't lose my cool and do something stupid. A bit out of character, I replied very diplomatically, "I think I was in," and while the Jersey boys started throwing a tantrum, Bart or TK advised me to go to the advisor, who just happened to be the great Ultimate photographer, Stuart Berringer. He was standing maybe 10 feet away and had a perfect angle. He took a moment and said very definitively: "He was in." I knew he wasn't lying because he was, after all, an eastern boy and had every reason to be rooting for the Nee.
It proved to be a big turning point in the game, cutting the lead to one or two. Soon after, we tied things up at 12. Then we forced another turnover and scored again for our first lead, 13-12. Suddenly, Toby was nowhere to be seen. Don Cain was throwing it deep and out of bounds. Keay, Rich, JK and Schemchel were smothering their middles and deeps, and the Nee was starting to tighten up like we had on Friday. Still, they scored again to tie it at 13, and time was running out.
With about three minutes to go and the game on the line, we marched downfield. I was open behind Toby a couple times, but Lewis and Turner elected to go for the sure thing. From Lewis, to Turner, and eventually to Bob Austin maybe five to ten yards from the end zone, where the defense tightened. The count reached 7 or 8, and I knew I had to make a move to bail him out because they had everyone else covered. Bob stretched out low like he loves to do and let loose a short backhand which was so low it almost scraped the ground. He had caught my eye as I cut to the corner behind Toby, who could do nothing but watch. The disc was maybe a foot off the ground, if that, when I clutched it pancake style, making sure to plant both feet in bounds before hopping out.
We were up by one with less than two minutes to go, maybe less. I remember not wanting to come out because I knew the gods had been smiling on me all day. How else could I explain it? Three goals and on all three I had been lucky. If I had done something wonderful, made a truly great catch, I'm not too humble to admit it, as those who know me and those who read these pages well know. But this time I was just lucky-every time I touched the disc, which wasn't often, something good happened. Come out now? No way, I thought! Then I saw Keay coming in, and well, what could I say? I had done my job, and we needed a turnover. The Nee still had a chance, especially with the Schmidt rule. We would have to turn it over and win by two. Well, one of their QBs made another stupid throw and Michael Mininni hit Keay with a simple overhead in the endzone. After Keay caught our last goal, which put us up by two points and therefore took the Schmidt rule out of play, there was still about 20 seconds or so left on the clock. We pulled to the Nee one final time and after a couple of passes, they turned it over one final time. JK picked up the disc and held onto it as the clock ran out.

Game over. Energy pile on Keay. Dougie running around like a maniac, and Bart raising the trophy.
Suddenly, the ghosts of '79 and '80 had been laid to rest, and every Condors who had ever put on a uniform wouldn't have to hear the, "Yeah, but that was before '79." Sorry guys, but those teams in '77 and '78 were probably just as good as '81 and in some areas, maybe better. This team was obviously faster and more athletic, but so was 1980. I think it was our youth that made us hungry and our experience that kept us thinking positive.
For all of those I haven't mentioned in this narrative, let me apologize for my oversight and try to make up for it now. I can always go back and fix things later. The most valuable player? Probably Poodle, AKA Cliff Marhoefer, who was just awesome, unstoppable all tournament long. And who can forget the intensity on Mike Mininni's face when he was running downfield or cheering on his teammates from the sidelines? What about the steady, reliable play of Curtis and Lewis and Buzz Ellsworth and Paul Hooston and Jim Turner and Geoff Girard? What do you mean this team doesn't have talent? What about Brian O losing his voice from screaming so much? And the wise old newcomer, Yogi Durra, who treated the zone like a familiar old friend. In addition to our budding superstars, Keay, Rich, JK, and, yes, Dougie, who was cool beyond his years, there were Thad King and Danny "Spode" Schradermeier, who, unlike yours truly, didn't bitch when Bart chose not to put them in the game. Or Larry Laveille and Dave Tabor, who knew already they weren't going in but did their best to keep us positive when things were looking like Atlanta all over again. After the game I felt sorry for only Thad and Danny, who had contributed so much all year long. Remember the Worlds? "Thad, dad, we know you're dad, but that ain't enough, you gotta be buff!" Still, they were newcomers to the team and would have many more opportunities in the future.
Finally, a word of praise for the "old timers," TK and Bart. They not only led by their stellar play on the field but also by their good sportsmanship (Bart? Yes, Bart.) and positive thinking off of it. And let me finish by mentioning the two great veterans, Mike Mininni and Paul Hooston, maybe our best all-around players. Both decided to call it quits now that they could sleep again without feeling that somehow their work wasn't finished. In the next few years, the team would get better and better, but fortune never again would smile upon us the same way, and as these pages suggest, it's sometimes better to be lucky than good. On this day we were both.
**If any of you would like to correct me, because my memory is often a little unclear, maybe even non-existent, please feel free to email me at johnolcott@hotmail.com. Please, no hate mail! Also, how about a few anecdotes out there? I'll continue this later and try to be a bit more brief (with the understanding that Craig Carlysle's attention span is something less than it was when he was listening to Bart in the huddle!), but please bear with me and understand that this is a work in progress and can only get better with time and your contributions. Next is 1982, and I'd love to go back and touch up '79 through '81. Let me know what you think. Remember, I am not writing an objective history - this is a history only through my eyes. If you want to read something objective, read the stupid-ass, boring article on the '81 nationals in the UPA Newsletter, January 1982. Next to those guys, I read like Shakespeare!
Condors vs Dallas Sky Pilots 22-20
Condors vs Knights of Nee 23-24
Condors vs Michigan State 26-9
Condors vs Boston Hostages 35-18 (semis)
Condors vs Knights of Nee 15-13 (finals)