In Memory Of...
3 Black Tide athletes have passed away - and all in their prime.
---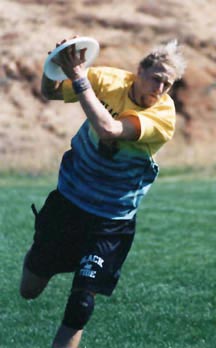 Mark 'Sammy' Samuel
Black Tide: 1997
Black Tide Spirit - Sept, 1997
---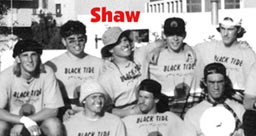 Shaw 'Big Shaw' Copilow
Black Tide: 1994-1995
Black Tide Spirit - August 10, 1998
---
John Wiley
Black Tide: 1985-1986
Black Tide Spirit - 1987
I'd always wondered what happened to John Wiley. He was a really good friend while playing on the Slicks and the Tide and definitely a great character to have around. For a year he played with a shirt that had only one sleeve cut off (like a tank top) and the other on. I asked him about it one day and he said it was because he had started cutting the other sleeve and then realized he had written "The Who" on it (i.e. the band name) and he said, with near sacred reverence, "I couldn't possibly cut off the sleeve when it contained the name of the best band to ever grace the face of the planet."
He really was a great guy, an awesome person to roadtrip with (we went down to Arizona together along with Trish and Andrea, Sean Daddy, and a few others), and a really good Ultimate player. If there was anyone to earn "Most Improved Player of the Year" I would have voted for John. When he first came at the beginning of the year he didn't know the difference between a disk and a dog bone. By the end of just his first year, he was one of the best players on the Slicks, could outrun nearly everyone, and had the rambunctious spirit that every disk team loves and requires. It was truly impressive and he'd earned it through a LOT of hard grinding work from both practices and personal workouts.
After I'd graduated in 1986 I heard that he had contracted some sort of terrible disease (something like spinal meningitis or something like that). I was told he'd been taking a shower one day and just froze, paralyzed from the neck down. I'd heard he was at home or in the hospital. That's the last I heard about him. Looking at your site, I truly feared clicking on the "In memory of..." text. I guessed John would be listed there. I'm surprised there are already 3 people shown. But was sad to see, at the bottom, John's name. I'll try to find a picture and send it over to you so he can also be shown along with the others. I didn't realize he died just one year later in 1987. He was at the prime of his life!!! It's truly sad and just writing this makes me miss him and brings a tear. Life can be so fragile.
Ovick Kar