Stephen, Jason, Marcia & Joe Seidler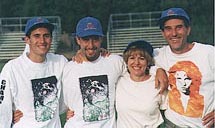 Hi.
I'm a dad with 2 sons. We had a pretty normal family until in Jason's sophomore year at UCSB he asked us for a special birthday present. He wanted a few of his Ultimate teammates to stay at our house while they were playing a tournament nearby. We said yes. That began something that changed our family. Later that year, he asked if the entire team could stay over for the weekend of another tournament. We said yes again, and we were hooked. We began going to his Ultimate tournaments - a lot of them. We even made a vacation out of a tournament in San Diego for Jason's birthday. We've been going to Ultimate tournaments ever since. And not just me. My wife, Marcia, has been there too and cooked meals for the team when they were at our house (sometimes with the womens team also). And our older son, Stephen, went to quite a few tournaments. He became the team videographer, and between the two of us we now have video tapes of over 200 games. Jason has long since graduated and now plays on a club team in the San Francisco Bay Area.

Ultimate brought our family together while our sons were in college. I don't think it's easy to do that since kids usually want to be on their own in college. It's hard to find topics of common interest (that's a nice way of putting it). We spent hours and hours together on the field and with the team at our house. We would talk about Ultimate on the phone while Jason was away at school. We bonded. Well actually it might be more accurate to say I bonded. I think my wife had already done it with the boys. It helped us create a family environment that I thought only happened in the movies or on TV. I am very thankful to Ultimate and the great athletes, both men and women, we have become friends with, close friends. I hope other parents take the opportunity Ultimate gives them to spend more time with their children.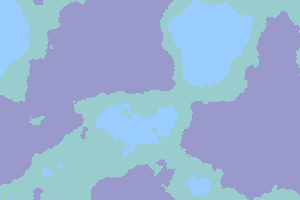 ---
"He bent down to pick up another one.
He had already thrown 40, but he wanted more.
No one was around; all of the other athletes had gone home an hour ago after practice was over.
The coach looked up through his office window across the field and saw him out there. "What's he doing" he thought. "Why is he still here?"
He threw his 45th. He decided to throw one more. He took his stance, concentrated on his form, began his turn, and let it fly.
The discus went farther than anyone had ever thrown in his school before.
He was 13 years old."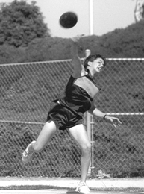 my son